CXI Results: How do North American Banks Rank in Customer Experience? (Part 1)
by Frank Schneider, VP Customer Experience Solutions
Forrester recently released their 2013 Customer Experience Index results and the findings are very telling for businesses who want to understand how customers view their brand. The survey covers 14 industries with over 7,500 consumers participating in the CXI ranking. We took a look at the banking category, and this is what it revealed.
USAA Bank, SunTrust, TD Bank and PNC were all rated "Good" when it comes to customer experience.
BB&T, US Bank, Ally Bank, Regions Bank and Chase ranked "OK"
Wells Fargo, Citibank, Capital One/ING Direct, and Bank of America rated "Poor"
HSBC and Fifth Third rated "Very Poor"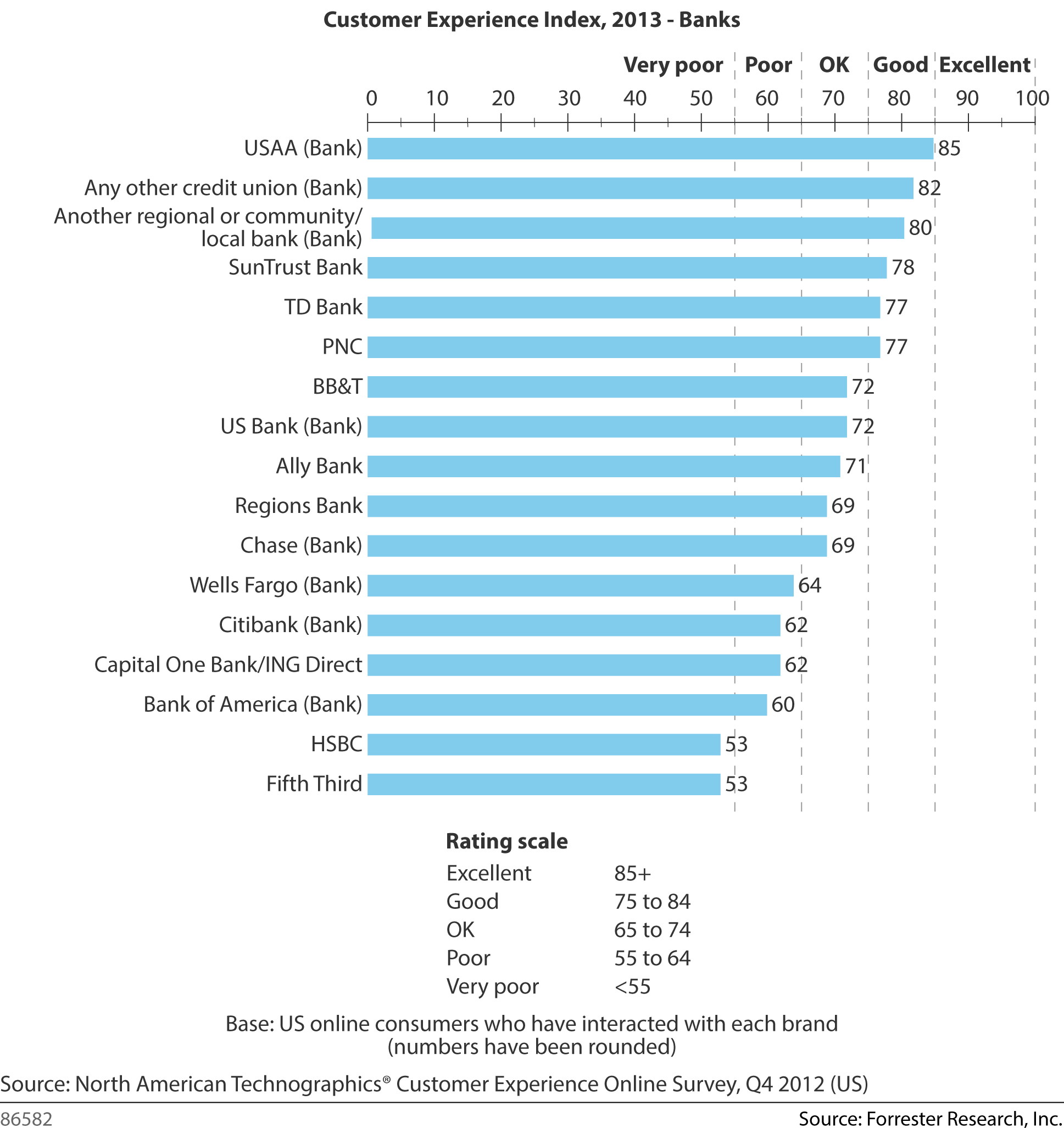 Interestingly enough, none of the banks rated "excellent." What this says to me is that no matter where these banks fall on the spectrum, all banks have some work to do when it comes to improving the customer experience. Banks have an interesting challenge, however. According to a 2012 Gallup survey, only 15% of Americans had "a great deal or "quite a lot" of confidence in banks. Dealing with an individual or corporation's finances is a very personal thing and therefore, it is necessary for banks to create value and deep relationships with their customers. In the customer's view, it just shouldn't be difficult to gain access to his/her own information.
What banks need to do is to find a better way of communicating with their customers when and where they want it. Secondly, banks must review their policies and procedures and identify what is not working for their customers. Are banking hours a problem? Adjust them or augment them with a solution that provides 24/7 availability. Thirdly, banks must provide better access to information across the organization. Eliminate silos and find better ways to share customer information so that each touchpoint along the journey provides a benefit to the consumer. Your goal is a seamless customer experience in both online or offline channels. That's the way you go from good to excellent.
If you want to see how other industries fared, click here for the Forrester report (registration is required).
https://www.creativevirtual.com/wp-content/uploads/2017/12/site-logo.png
0
0
admin
https://www.creativevirtual.com/wp-content/uploads/2017/12/site-logo.png
admin
2013-07-11 00:00:00
2018-02-12 10:53:18
CXI Results: How do North American Banks Rank in Customer Experience? (Part 1)